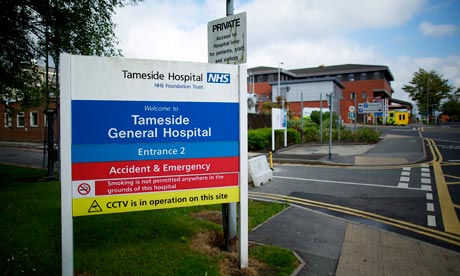 This Guardian article makes for pretty grim reading.  There's one section in particular that really stands out for me though:
Bournemouth and Poole are smallish district general hospitals needing to merge to share services and stay solvent. But their overseer, Monitor, has the new duty to 'prevent anti-competitive behaviour'. Monitor say the hospitals should be competing for patients, so they referred the merger to the Office of Fair Trading – unknown in the NHS.
Hospitals competing for patients? That seems utterly ludicrous. What possible benefits could there be for patients in Bournemouth and Poole by making the already-pushed hospitals fight for their "business"? Who could think that this is a good idea?
Clearly someone who does not have patient care as his or her highest concern. Someone with a very different agenda in mind. Someone who would like nothing better than to see the NHS dismantled and privatised.
I suppose it might not be a bad thing.1 After all, the privatisation of the railways has been entirely trouble free. Same with the utilities: it's been nothing but plain sailing since they were turned over to private interests.
I firmly believe that despite its failings and problems, the NHS is one of the best things about the UK. The horror stories you hear from the US about the cost of treatment or the difficulty in getting insurance in the first place make me very glad I can go to a doctor when I'm sick and can go to a hospital without having to worry about going bankrupt.
I appreciate that mine is not the only point of view on this issue; a more right-leaning person might believe that smaller government and reduced spending is a fair trade for our current system of socialised medicine. But at the moment it feels like the Coalition is rigging the game against the NHS. Cutting funding and then complaining that standards have dropped is like taking the roof off a house and then complaining when the rain gets in. You can't have it both ways – not that the Coalition really wants it both ways. They just want to hound the NHS until it collapses from exhaustion.
That's right; it's time for a sarcastic interlude! *jazz hands* ↩